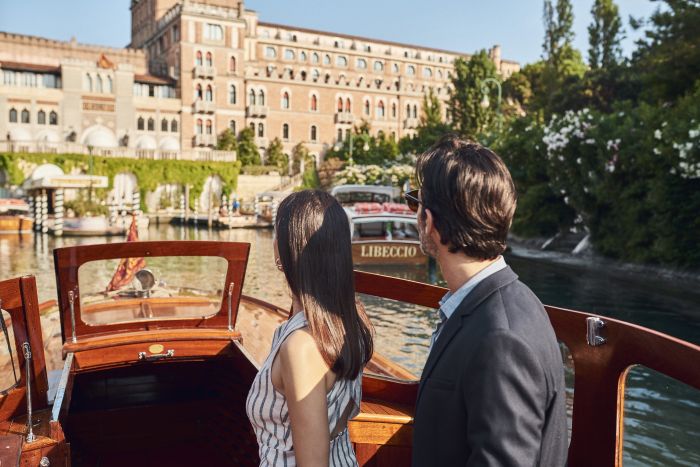 Hotel Excelsior Venice Lido Resort
The award-winning Hotel Excelsior Venice Lido Resort - conveniently located beachfront on Venice's beautiful Lido Island - has launched a new 'School Summer Passport' package for families this season. With families seeking engaging learning opportunities for their kids while school is out this summer, Hotel Excelsior Venice has partnered with local businesses to provide immersive cultural experiences that the whole family can enjoy.
Guests that book the 'School Summer Passport' package will receive complimentary tickets to Le Procuratie Vecchie, one of the most remarkable buildings in St. Mark's Square dating back 500 years. Le Procuratie Vecchie has teamed up with the Human Safety Net, a global organization with the mission to help vulnerable families and refugees find their full potential and provide various ways for families to get involved. During their visit, families can explore The Royal Gardens and discover their own potential through interactive activities assessing individual character traits at The Exhibition where they can also learn more about what the Human Safety Net does to help people.
On Sundays, families who book this package will be granted free access to The Peggy Guggenheim Collection, one of the most important museums of European and American art of the twentieth century in Italy and its workshops for children ages 4 -10 years old. During these workshops, younger visitors are introduced to art in an accessible and engaging way with the opportunity to explore various topics while experimenting with different art techniques. Additionally, families will receive a guided tour of the iconic Venice Biennale Art Exhibition.
After a busy morning of sightseeing in the heart of Venice, guests can take the 15-minute, private water taxi back to the Hotel Excelsior Venice Lido Resort for an afternoon of family fun on the beach. With the 'School Summer Passport' package, parents can enjoy a daily free drink and families will have access to their very own classic cabana.