By Shaena Engle Nov. 29th, 2021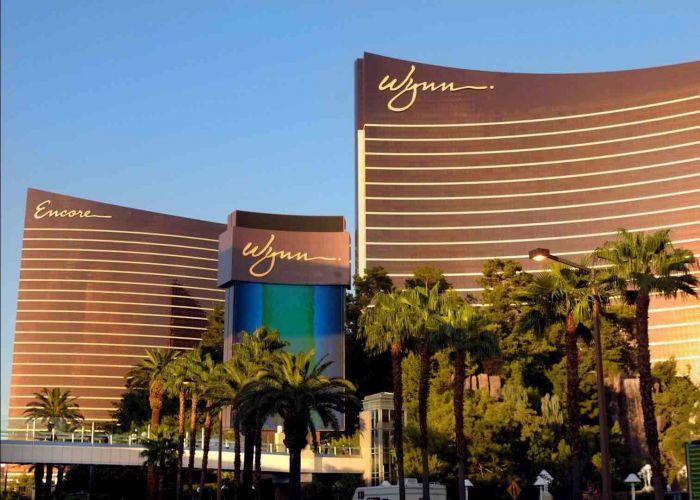 Wynn Las Vegas
Wynn and Encore Las Vegas have both opened two new exciting restaurant concepts.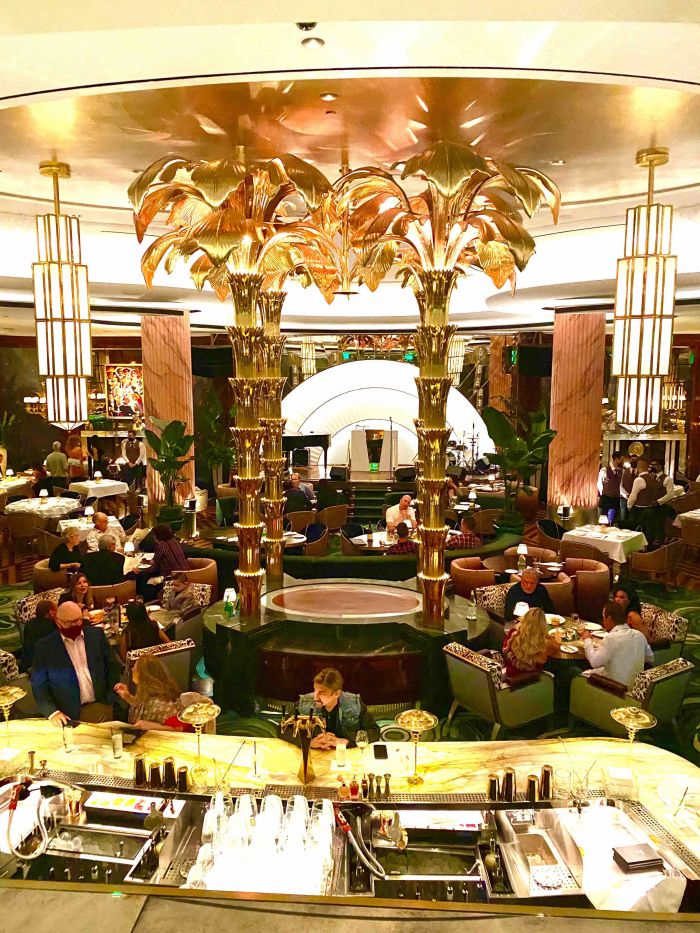 Shaena Engle
Delilah, a lavish new supper club at Wynn, is housed in the old Alex restaurant space. The very fancy 1920's inspired restaurant features the Little Bubble Bar with room for 34 guests with comfy leopard upholstered round tall chairs that feel like individual sofas, an art deco inspired interior, champagne bubble chandeliers, celebrity caricatures along the wall and plenty of signature cocktails. The bar overlooks the massive dining room below. Instagramers beware, the supper club has a "no photo policy," which we were told several times, but were let to take photos for this article.
Shaena Engle
Head down the twin staircases that lead to an expansive dining room with brass palm trees at the center, inspired by the Copacabana. The main dining room includes lots of silk, velvet, wood and brass with Zebrawood inlaid floors, hand-finished plaster molding ceiling segments, ebony inlay on the walls, vintage cubist art and malachite-inlaid tables. There's also a small stage where a small band and often celebrity surprise performances take place with Sunday's entertainment reserved for a five-piece jazz band.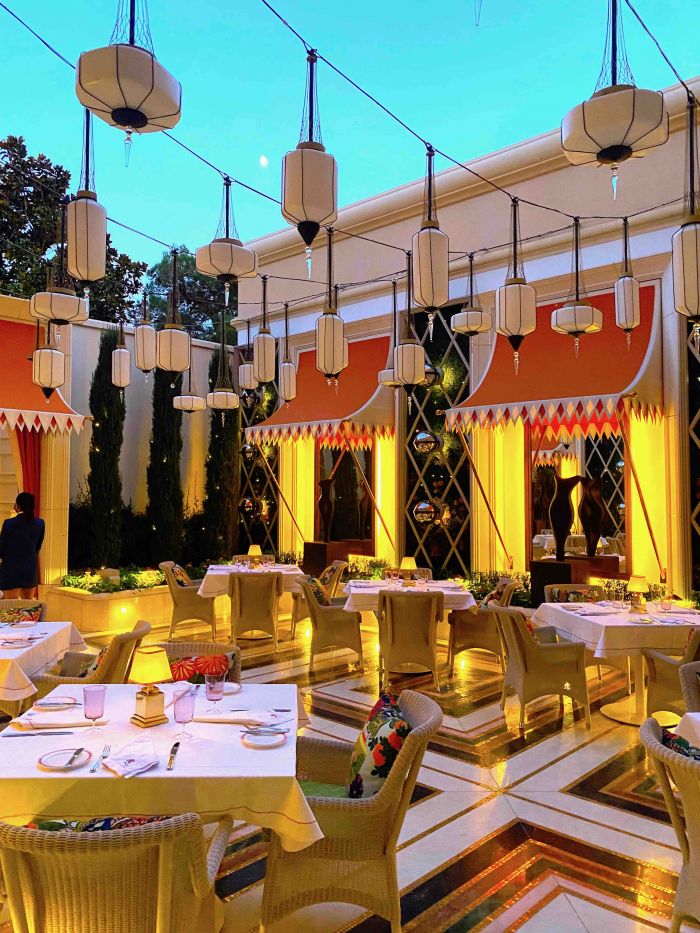 Shaena Engle
For alfresco dining, the restaurant features two outdoor courtyards with magnolia trees and twinkling lights. There's also a secret Chef's Table for high rollers and celebrities that value privacy.
Serving modern American cuisine, Delilah features lots of tasty dishes including Wagyu beef Wellington, smoked salmon and caviar, surf and turf with short ribs and scallops and fish and chips. The drinks are also a big draw arriving with beautiful unique presentations and innovative flavors.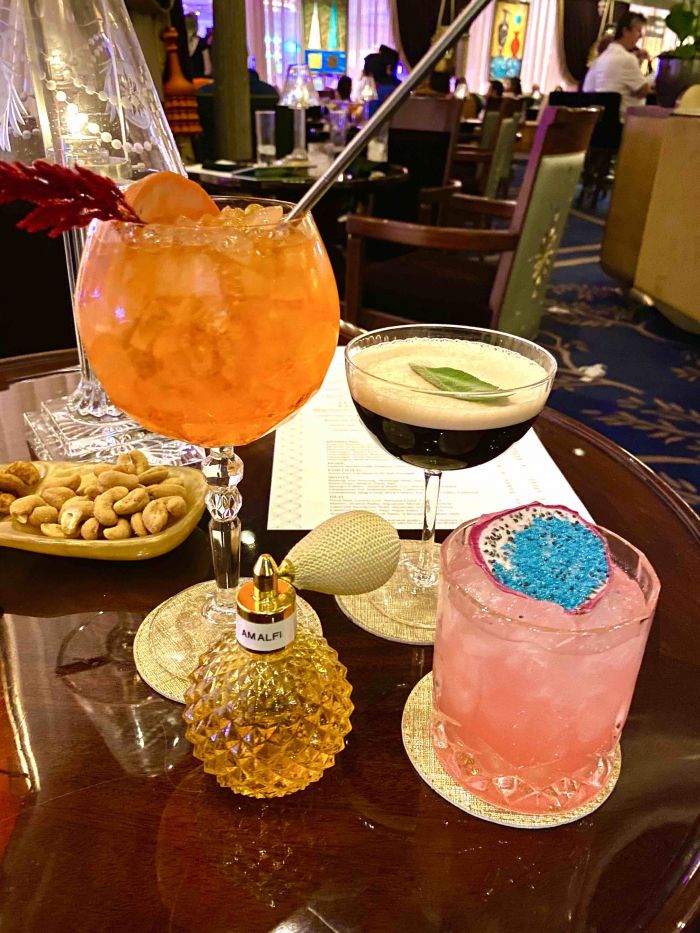 Shaena Engle
Wynn also recently opened the new Overlook Lounge serving up aperitifs, cocktails and spirits in a rich European atmosphere. Located above the Lake of Dreams, the cocktail hideaway serves specialty libations inspired by the most iconic figures in fashion, film, history and mythology.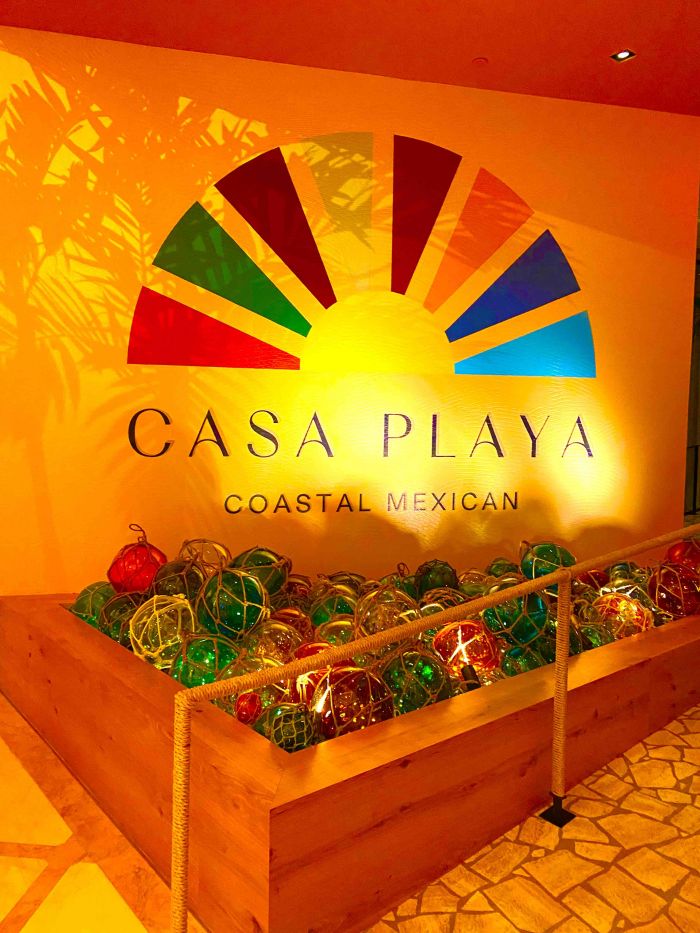 Shaena Engle
Encore also has a brand new edition to their extensive variety of restaurants. Casa Playa, a coastal Mexican concept featuring authentic dishes and cocktails, is now housed next to the Encore Beach Club.
Executive Chef Sarah Thompson, Wynn resort mixologist Marlena Mercer Boarini and agave expert Noah Arenstein have teamed together to present diners with an authentic Mexican seaside experience.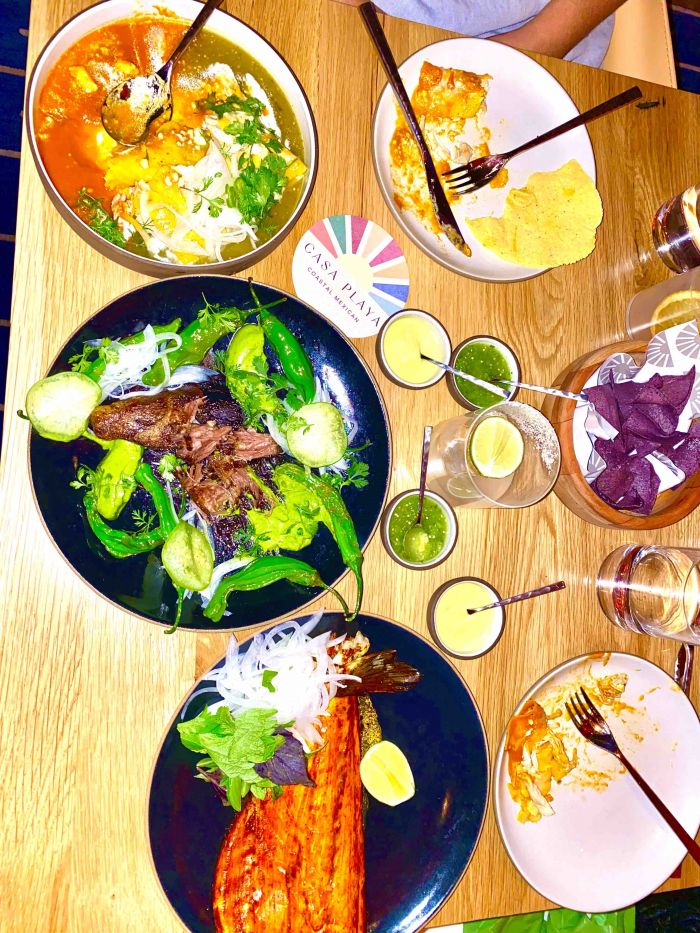 shaena engle
Designed by Wynn Design and Development, Casa Playa transports guests to a Mexican escape with bright colors, two cascading marigold installations and a mix of festive patterns and textures.
The menu highlights fresh grilled seafood recipes including Mexican blue shrimp ceviche, yellowfin tuna tartare, seafood towers, black truffle tostada, duck confit tamale, octopus in coloradito mole, cauliflower al pastor, branzino with adobo, Yucatan chicken with adobo, whole roasted carnitas and a surf and turf with Wagyu carne asada, lobster, chorizo and short ribs.
Later in the evening, guests can enjoy live entertainment with rotating DJ's.
Their cocktail program includes margaritas, tropical mixed drinks and a huge variety of mescal and tequila options.
Delilah at Wynn is open Wednesday – Sunday, 5:30 to 10:30 pm with late night dining beginning at 10:30pm. The Overlook Lounge is open Sunday through Thursday, 2pm to 3am and Friday and Saturday from 2pm to 4am. Casa Playa at Encore is open Wednesday through Sunday, 6pm to midnight.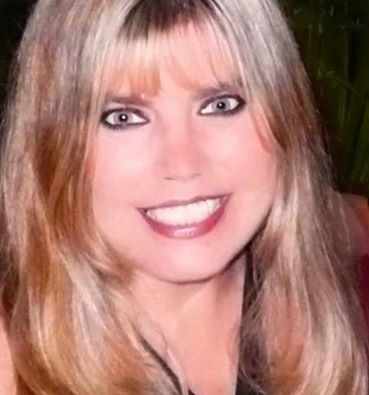 shaena engle
Shaena Engle is the food/travel editor for The Daily Meal Los Angeles. She also writes for the Los Angeles Times, Pasadena Magazine, M Magazine, Los Angeles Times Las Vegas Magazine, AOL, yummly and other outlets. She has authored The Best Places to Kiss in Southern California, The Cheap Bastard's Guide to Las Vegas and other outlets. She writes about travel, food, wellness, lifestyle and entertai...(Read More)