By Shaena Engle Jul. 1st, 2022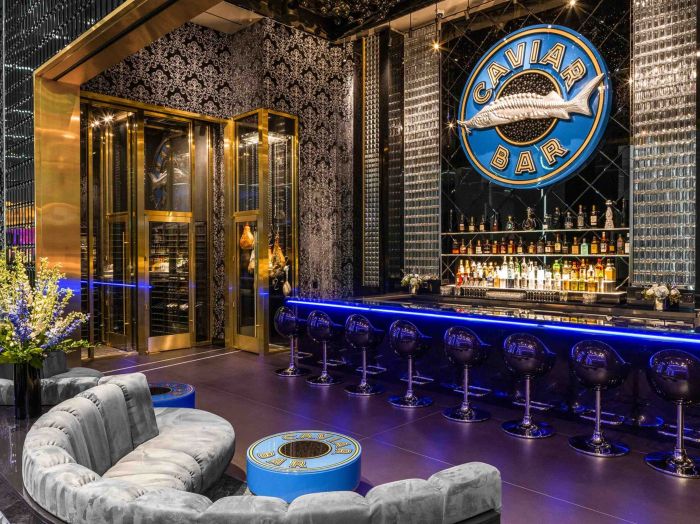 Caviar Bar
Craving caviar? Look no further than Caviar Bar at Resorts World in Las Vegas. Sin City is known for its over-the-top decadent restaurants and Caviar Bar does not disappoint.
Located way off the casino floor in the "restaurant row" of Resorts World, Caviar Bar highlights Chef Shaun Hergatt's seasonal seafood dishes with a bevy of beautiful international caviar.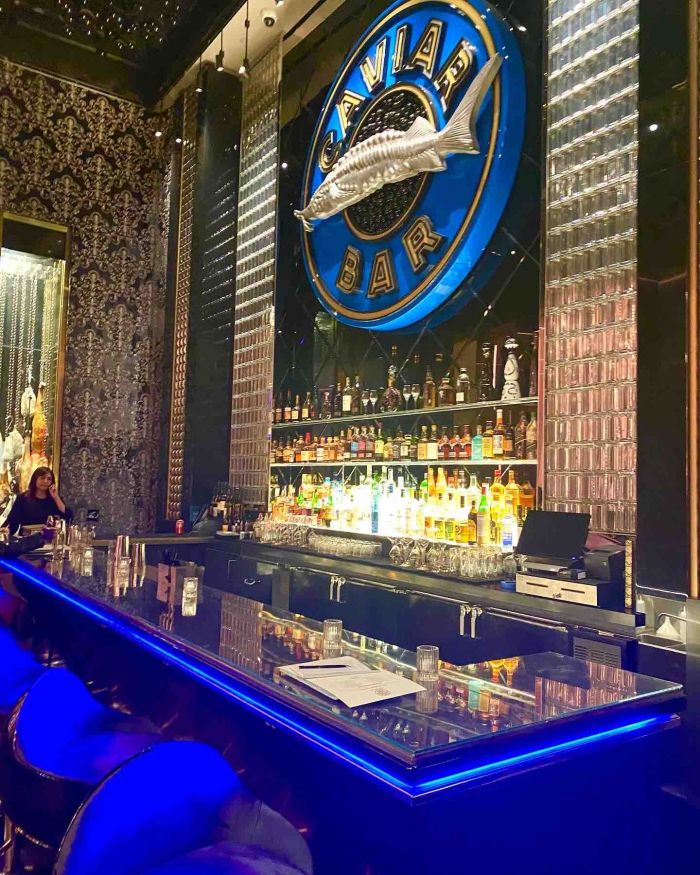 Shaena Engle
The space is designed by Roman Vnoukov and is modern with diamond walls, dark greys and blacks with bright blue accents. There are comfy round velvet seats around circular bright blue tables surrounding the entrance, huge grey velvet booths across from the well-stocked dark bar with a bright blue light accent and cozy tables and booths down a long rectangular dining lounge that looks out for great people-watching over the District shopping area.
Drinks are Vegas-inspired including the Late Check Out with vodka, lychee, lemon and elderflower tonic; the Road Less Travelled with Botanist Gin, jasmine green tea syrup, lemon and sparkling wine and the High Roller with Beluga Noble Export Vodka and blue cheese and prosciutto stuffed olive amongst other tempting libations.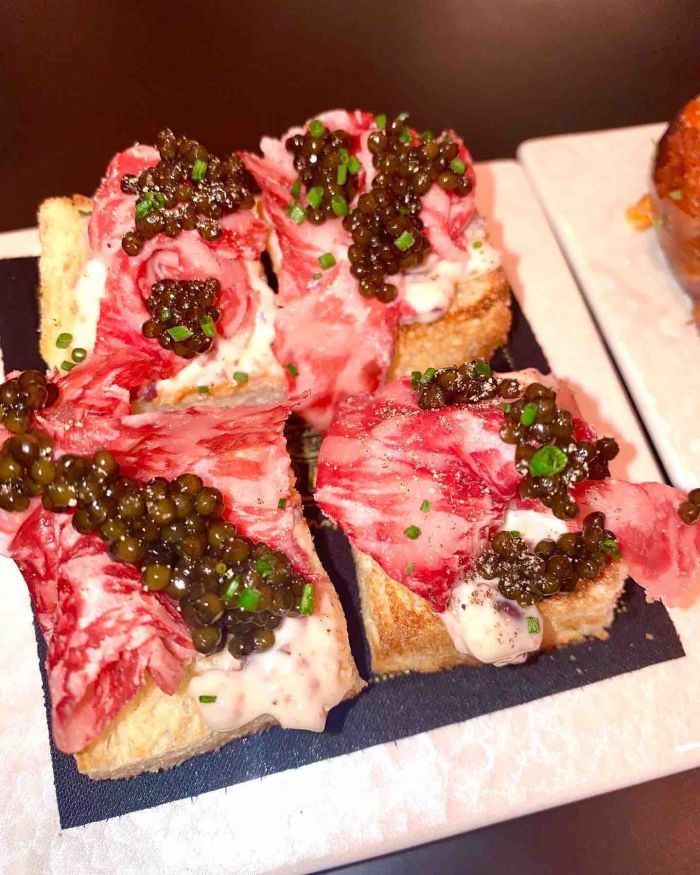 Shaena Engle
Diners can choose from the Vegas high roller Golden Osetra or Kaluga caviar (at $350 and $280) or the much more affordable Red Caviar at $30 to pair with house-made blinis, chives and crème fraiche and tins of caviar can be ordered as enhancements to dishes.
Caviar inspired dishes include baby waffles with smoked salmon, crème fraiche and caviar; Wagyu beef with black olives and caviar and shrimp toast with caviar sauce. Appetizers include a choice of Iberico ham, culatella, sporessata, capicola or prosciutto with mustard, cornichons and pickled pearl onions on a crostini; oysters; mussels; lobster; a variety of tartares and crudos including Hamachi, Big Eye Tuna, Ocean Trout and Bluefin Toro Tuna and an avocado and beet salad.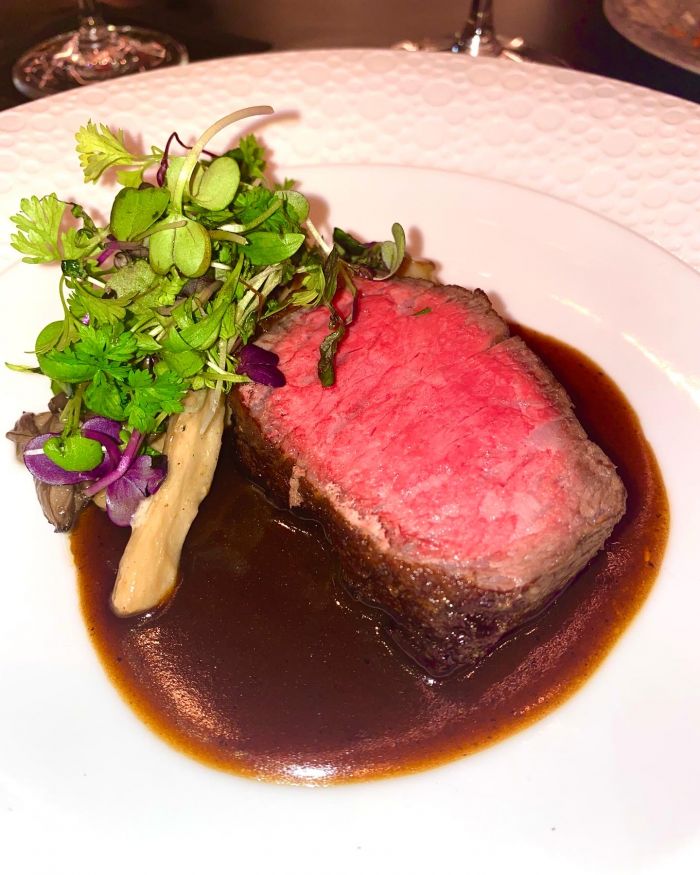 Main courses include handmade gnocchi, sea bass with Coco Beans; spaghetti pomodoro, Jidori chicken, black cod and salmon.
The must have dessert is a beautiful caviar ball with sweet cheese and blackberry sauce.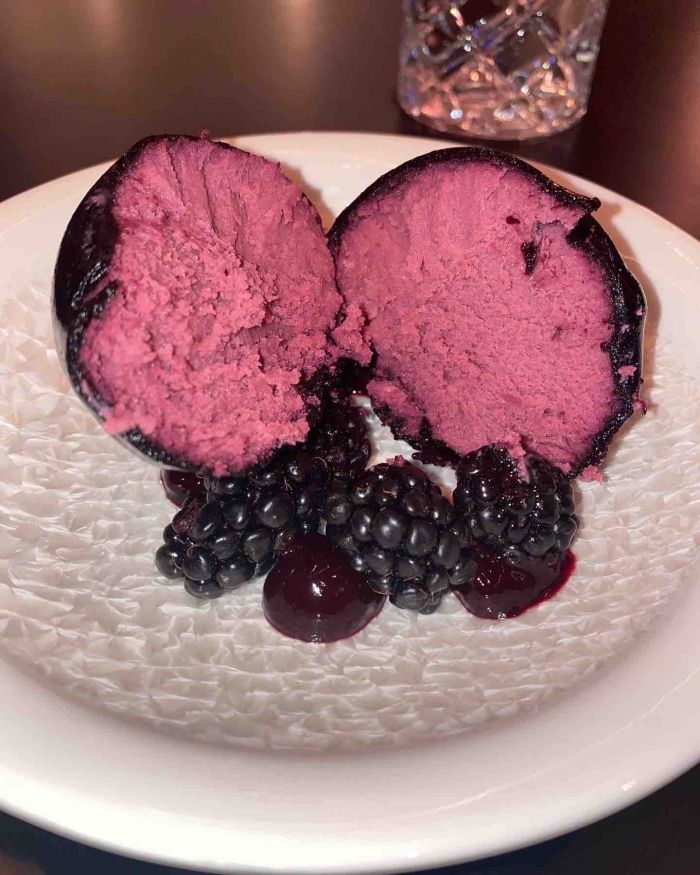 Shaena Engle
Caviar Bar is a destination restaurant. The next time you visit Vegas, splurge on this decadent new elegant restaurant with elevated cuisine.
Caviar Bar is located in Resorts World at 3000 Las Vegas Boulevard South, open daily from 5pm to 2am, reservations at 702.676.7936.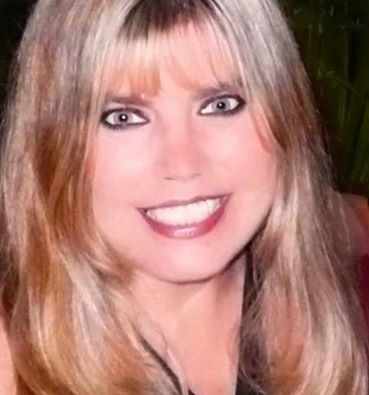 shaena engle
Shaena Engle is the food/travel editor for The Daily Meal Los Angeles. She also writes for the Los Angeles Times, Pasadena Magazine, M Magazine, Los Angeles Times Las Vegas Magazine, AOL, yummly and other outlets. She has authored The Best Places to Kiss in Southern California, The Cheap Bastard's Guide to Las Vegas and other outlets. She writes about travel, food, wellness, lifestyle and entertai...(Read More)