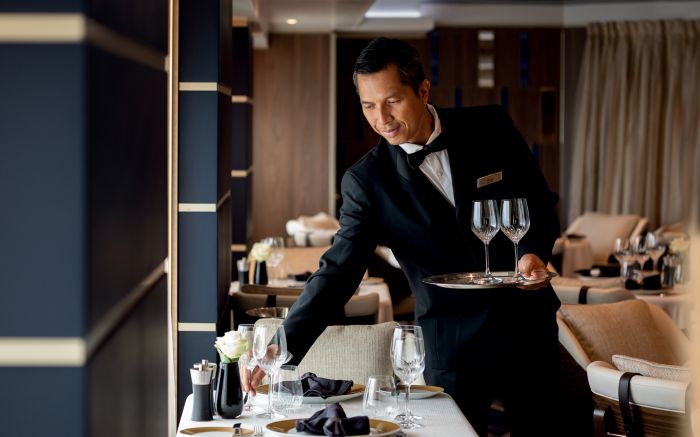 Regent Seven Seas Cruises
As travel writers (Debbi having been a professional travel journalist for more than 25 years), we've been on many cruises, and on many different cruise lines: From the massive ships that grow (unceasingly) larger every year, to small three-masted sailing ships. They all have their own feel and vibe, but they all tend to be the same in one respect: The length of the cruise. Meaning, most cruises, whether in the mass-market category or the small-ship luxury space, tend to fall somewhere in the 10-12-day length category.
That poses quite a challenge for those who sail those waters, so to speak. Why? Primarily, frustration of the main objective – which is: To unwind. Really, u-n-w-i-n-d. Let's illustrate: Whether your embarkation port is in the U.S. or abroad, going on a cruise takes a lot of planning and work. You need to pre-pay all your bills, from mortgage or rent to utilities, to make sure nothing goes unpaid when you're away. It's smart to arrange your house before leaving, so that it's not a mess when you return. Packing can take days - and your ride to the airport hasn't even picked you up yet. That's when the travail of air travel really makes its appearance: The torture of the airport – mobbed baggage check-ins, TSA strip searches, crowds and unruly passengers, canceled flights. This is followed by being crammed onto a packed plane, into a seat that measures about 13" wide for hours on end. Flying First Class will dull some of this pain, but it won't eliminate it.
When you finally arrive at the cruise port and board the ship, you can be exhausted beyond words. If you're anything like us, you'll need to sleep for at least two days before you feel alive again. (We're not as young as we look – LOL). And just when you begin to get the feel of the ship, guess what happens? A few days later, if your cruise length is 10 or 12 days, you'll find "Mid-Cruise Comment Cards" left in your stateroom, reminding you that you're halfway through the cruise. This is followed another couple of days later by Disembarking Instructions, reminding you of what you'll need to do when leaving in another three days or so. All while you tell yourself, "But I just got here!"
There's a better way, and we're glad to say that we experienced it, for 33 blissful days: A (very) extended cruise itinerary.
Whatever the cruise length is, choice of cruise line is critical. It can make the difference between feeling, "I love this experience and wish it would last forever," to "I can't wait to get off this ship, and I'll never do this again." Think of it this way: If your vacation were on land, would you rather spend an extended stay at a Four Seasons hotel, or a Motel 6?
Luxury With A Capital "L"
Readers of this website are discriminating travelers, and likely don't favor the mass-market cruise sector, brand names of which don't need to be mentioned here. But that doesn't mean that careful attention isn't needed when choosing an upscale, luxury brand; we don't recommend that cruise travelers choose just "any" upscale cruise line, for each has its own atmosphere and benefits. These cruise lines number about five or six and most of them fall in the "luxury small ship" space, meaning a typical maximum passenger capacity of 700-900 guests. Almost all of these luxury lines are pretty much "all-inclusive," meaning that almost all costs are included – your stateroom, all alcohol and drinks, fine dining, and much more, which you definitely won't find on the larger, mass-market lines. But not all luxury cruise lines are created equal, so which should you choose? How long is an "extended itinerary," and what are the benefits? Read, on, and we think you'll like what you learn.
On our recent 33-day sailing aboard Regent Seven Seas Cruises' Mariner, we can honestly say that the experience was unprecedented – even for veteran cruisers like us. There were several reasons for this. First, Regent's ships typically accommodate a maximum of approximately 750 guests. Mariner's guest capacity is 684, and has an extremely relaxing vibe on the ship – a careful balance of relaxation and space, with more than enough activities and options to keep enjoyably busy. These range from very interesting shore excursions – which are included, complimentary, in Regent's fare – to onboard activities from fitness classes to enrichment lectures. We found Regent's Shore Excursion program to be especially exciting: Guests can embrace amazing opportunities in each port of call with more than 2,000 free Unlimited Shore Excursions included in Regent's fare, across every region of the world. In addition, for guests who wish to, they can take their experience to another level with selected itineraries through smaller group tours offered by Regent Choice Shore Excursions. These selected opportunities carry a discounted, supplementary charge, but most all guests that we spoke to who opted for this "plus" shore experience thought that the added nominal expense was worth it. For foodies, Regent also offers Gourmet Explorer Tours and for the health-conscious, Wellness Tours. Creative and worth it, in our view.
Another extremely appealing feature of Regent's benefits is that guests sailing in all suite categories can enjoy a free 2- to 3-night Pre- or Post-Cruise Land Program on selected voyages that offer land-based experiences before or after your cruise. Either creates a perfect combination with your cruise, offering the highlights and hidden treasures of special destinations for a beautiful prelude or grand finale to your experience. This is important because unique locations (such as Africa, South Africa, Bali, Australia and many more) beg for more time to absorb and experience their history. See details here www.rssc.com/specials/free-land-programs-all-suite-categories-us
But being on board a Regent ship is its own reward; an especially upscale experience. Lounging on the Pool Deck is a special treat. On many cruise lines, the Pool Deck harbors the obnoxious TV Jumbotron and is often the last place you can expect to read a book or take a nap – they're far too busy or noisy. We found the Pool Deck on Mariner to be an oasis of relaxation and calm. The only thing that will interrupt it are the waiters who want to fetch you anything you want.
ENTERTAINMENT: Regent's ships all fall within the 600-800 guest capacity range, and the theater venue is both large yet intimate: Their live production shows offered a variety of Broadway and musical productions, and were very entertaining, though there is some room for improvement in this Department. The performers' talent level is high, but some of the productions lacked the "Big Show" or Broadway feel. Notwithstanding, the entertainment was rewarding, and especially memorable were Linda Gentile, a pianist and singer extraordinaire, and Assistant Cruise Director Richard Rubin, whose combination of piano playing and comedy wowed just about everyone.
Yum's The Word!
DINING: Regent is known for its culinary attention to detail, and in our experience didn't disappoint. Mariner has seven separate dining venues:
· The Main Dining Room (Compass Rose), on Deck 5 of Mariner, is so named as the flagship restaurant aboard all Regent ships. Beautifully designed and appointed in blues and silvers with exceptionally detailed Versace tableware, this elegant and spacious dining venue serves breakfast, lunch and dinner all days. It differs from other dining venues on board in offering a variety of European-inspired cuisine, as well as flavorful vegetarian, spa and kosher cuisine. We found Compass Rose to be too formal for breakfast or lunch, preferring La Veranda or the Pool Grill for those times of days, but just looking at the pristine appearance of Compass Rose is a treat.
· Chartreuse is the ship's French dining menu, located on Deck 6 aft. It evokes a four-star Parisian restaurant. We found the selections, ranging from classic French to a special salmon preparation with caramelized endive, to be exceptional. Of course, any selection you choose can be paired with the finest of French wines. Don't be surprised to hear a fellow diner or two say "Garcon," when ordering!
· La Veranda, found on Deck 11 aft, is a wonderful buffet-style yet waitered location offering both indoor and outdoor dining for breakfast and lunch. As we typically don't eat breakfast (due to our usually writing and editing late at night), we loved this location for lunch every day. Both indoor and outdoor dining are available – and unless it was either raining or too windy outside, we always ate outside at the back of the ship. A wonderful way to dine al fresco. Menu offerings are extensive, from fully cooked preparations to cold cuts, salads, sandwiches and soups. If there's something you'd like that's not on the menu that day, just ask and it will be produced in record time. Waiters seat you and provide you with anything you might need if not offered at the buffet. For lunch every day, for us there's only one dining venue that can compete, and that's:
· The Pool Grill. On Deck 11, this dining venue is about as evocative of upscale, refined, and iconic of a beautiful day at sea that one can imagine. Here you sit outside, in the sun or shade, and order anything you want; it will soon be yours and delicious. Typical fare each day includes a wide variety of salads and sandwiches, cold cuts, fruit, sweet potato French fries (our favorite), of course all drinks, alcoholic and non-alcoholic. All while you watch the beautiful waters of the ocean and the pool, alongside pool deck waiters whose goal is to provide you anything you want – including a spritz of cool water on your face, if you'd like. It doesn't get much better than this, we can assure you.
· La Veranda at Sette Mari, also found on Deck 11 aft, is another specialty evening dining venue. The staff converts it from La Veranda's breakfast and lunch venue into an Italian specialty restaurant in the evening, and the nighttime dining options will leave you feeling like you're in Rome or Venice.
· Prime 7, also located on Deck 5, is the ship's specialty steakhouse, rivaling the best of beef and fish selections that you'd find in any upscale New York City steakhouse. Decorated in warm tones throughout, Prime 7 is decorated in a vibrant blue offset with white-leather chairs, resulting in a visually appealing environment. Here we dined on sublimely prepared prime filet mignon with sauteed mushrooms. (Bill says that this was the best filet mignon he's ever had in his entire life.) We also enjoyed the applewood-smoked salmon in tamarind-whiskey sauce. The amuse bouche is a smoky tomato soup that is so good it ought to be a main menu selection. There is a tremendous harvest salad, made with roasted pumpkin, dried cherries and cranberries, in a honey walnut vinaigrette. The side dishes are as good as the main dishes, and the wine recommendations are extensive. For dessert, we loved the 14-layer chocolate mousse cake with pistachio sauce, although we were also tempted by the venue's caramel popcorn sundae, the Rocky Road bread pudding, the red velvet cheesecake, and the homemade ice creams and sorbets. Salivating yet? Prime 7 is open for dinner only.
· Coffee Connection (also known as the Bistro): Located mid-ship on Deck 6, this specialty coffee bar offers all varieties of concoctions that are custom-made for you and delicious. As with almost all drinks on board, there is no charge for anything here. A very satisfying thought when you consider that on mass-market ships, that cappuccino you just ordered would cost you at least $7. Light sandwiches and fruit are available all day, all right next to the ship's computer center if you want to dash off an email and your phone is in your suite (which, as your objective is to really unwind, it hopefully will be). A variety of international newspapers are available, and the Computer Center and library are immediately adjacent to this location. This is a great place to meet new friends for a snack, a bite, coffee or a drink.
Impressively, all of Mariner's dining venues offer an extensive array of plant-based foods that showcase cuisines including Italian, Greek, Middle Eastern, Korean, Thai, Vietnamese, Mexican, Malaysian and more. In all, there are more than 200 gourmet plant-based selections for breakfast, lunch and dinner. In this area, Regent is perfectly right on trend!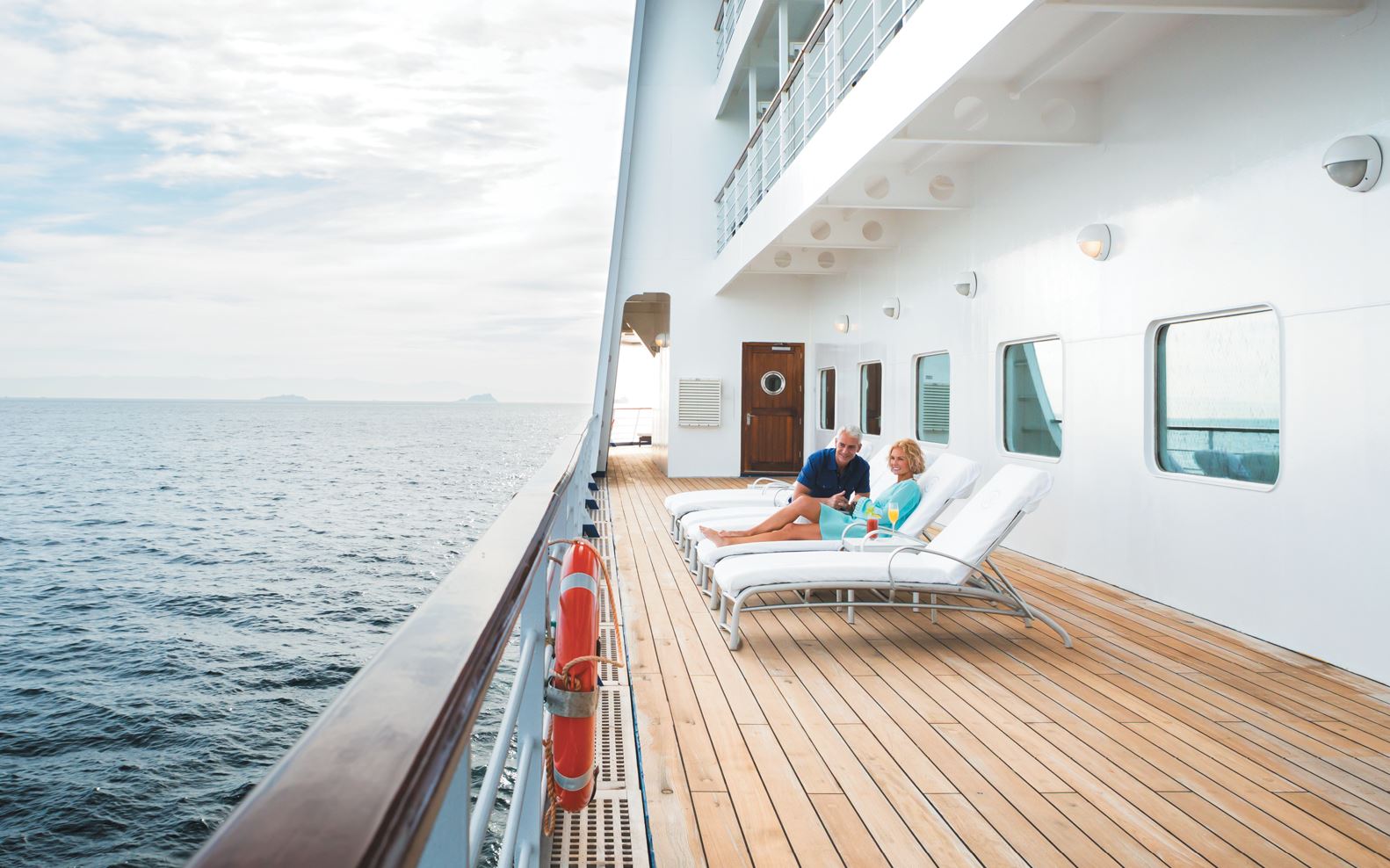 Off-Ship Is Just As Exciting
SHORE EX: As noted above, all Regent's shore excursions are included in the fare, which is an enormous benefit both financially and in terms of experience. Some of the shore experiences we experienced were Belize, and Dominica, and were very memorable.
In Belize, when we explored Harvest Caye, a stunningly beautiful private, 75-acre marine oasis that lets you immerse yourself in natural beauty, culture and wildlife. Owned by Norwegian Cruise Line, NCL partnered with the government of Belize to establish the Harvest Caye Conservation Foundation (HCCF) in 2016, a non-governmental organization whose primary goal is to promote wildlife conservation.
Here, at this manicured beach resort, you can enjoy the pristine sands, ziplining over the beach and water from three different launch points (great fun!), and snorkeling in the world's second-largest barrier reef. As part of NCL's admirable efforts to preserve wildlife and advance public education about these fragile ecosystems, Harvest Caye is also home to a wildlife sanctuary under the care of Tony Garel, an esteemed Belizean naturalist and wildlife expert. A few memorable facts about Harvest Caye: This nature preserve hosts a reptile terrarium, a butterfly garden and several aviaries featuring rescued birds of paradise. Harvest Caye works closely with the Clearwater Marine Aquarium Research Institute to protect manatee populations in the most critical areas of Belize. Harvest Caye is also one of the few nesting sites for endangered hawksbill turtles.
NCL team members also participate in protecting and monitoring nesting grounds each year to help baby turtles get a good start on survival. In addition, NCL has partnered with Friends for Conservation and Development to fund an anti-poaching program to protect wild scarlet macaws. We saw these beautiful birds up-close-and-personal and marveled at their bright colors.
We couldn't write about Belize without mention of the big cats the island is famous for. If you've ever dreamed of seeing jaguars in their natural environment, Belize is the place for you – especially at Rio Bravo Conservation & Management Area in Orange Walk. Other felines indigenous to Belize are the cougar (puma), ocelot, spotted margay, and the jaguarondi. You can also find black howler monkeys, which only exist in Belize and in Mexico and northern Guatemala. Infrequently spotted is the national animal of Belize – the tapir -- an herbivore that does not like human contact and is likely to run away from you when seen!
The beautiful island of Dominica left us with other special memories. We visited a place called "Champagne Beach" - the seawater there bubbles up from the ocean floor just like Dom Perignon. This beautiful site is activated by ancient dormant volcano vents on the sea floor. This was a great adventure, hosted by #Donny'sWatersports – a great group of people. The snorkeling was followed by drinking a local non-alcohol mocktail made with sea moss, milk and nutmeg. Dee-lish! BTW: P.S.: Why is this island named "Dominica"? Because when Columbus landed here, it was on a Sunday, so he named it for the day of the week that he arrived, in his native language. (Maybe that was simplicity; or maybe Columbus wasn't feeling very creative that day...)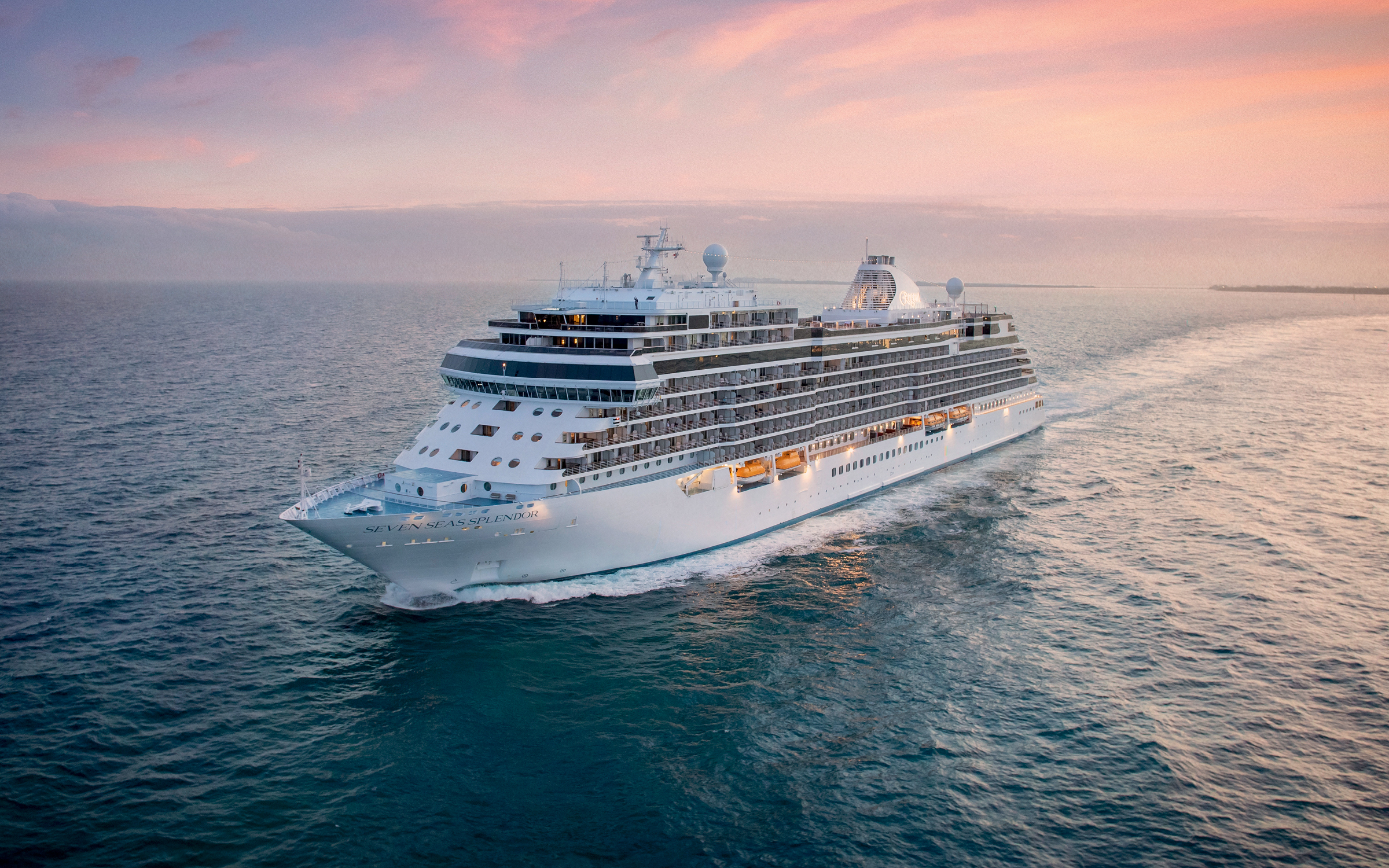 Regent Seven Seas Cruises
Ultra-Luxe Ambience
DECOR/AMBIENCE OF SHIP: Regent is known for the spare-no-expense approach to the design and decor of its ships, and Mariner didn't disappoint. The walls of the ship are lined with stunning marble – thousands of square feet, to be more descriptive. Crystal chandeliers and both warm wood and bright tones produce a welcome, luxurious feel.
SUITES: We stayed in a Penthouse Suite, measuring 449 square feet, including a spacious balcony. It was very comfortable, especially for an extended stay, with either two twin beds or a queen mattress, which are very comfortable. The bathroom was spacious, with a roomy shower. Bath amenities included lavish L'Occitane bath amenities, a personal butler and priority online reservations for shore excursions and dining. Our butler refreshed our beverage list and refrigerated items list every day, and canapes were delivered every afternoon at 4:00 PM. Deb custom-ordered graham crackers and nonfat yogurt as her daily, pre-workout snack. Our butler went out of his way in several ports of call until he found the graham crackers, which were not in the ship's inventory!
Between the sliding glass doors on the Veranda and the beds, there is a sitting area with a couch and table for reading or watching movies. On the wall opposite the couch there was a framed piece of artwork on one end of the wall, and a smaller TV screen a few feet to the right of the artwork. One improvement that could be made here is to swap out those two items, so that the TV screen is the larger of the two. We feel that it would enhance the experience of watching Regent's wide array of in-room viewing (especially for cinephiles!).
LIBRARY: This is an especially attractive space – whether you're a bibliophile or not. It's a stunning environment, complete with a working, crackling fireplace (obviously, it's not real, but you'll almost think it is). The wide range of reading material is both broad and captivating, from history, to biographies, to science, to fiction and much more. We found it a very rewarding place to be.
BARS: There are several lounges and bars to choose from on Mariner, each with its own personality and vibe. Preamble: All of the following venues offer complimentary top-shelf spirits, wines and beer selections, such as the superb Chateau des Ormes, a sweet sauterne dessert wine that Deb loved. All these premium spirits and beverages are included 100%, no tipping required. There is an up-charge for the Connoisseur's Wine List, for example, the $342 bottle of Chateau Yquem – the "liquid gold" that is Debbi's favorite.
· Horizon Lounge - located on Deck 6 aft. This is a great place to meet people either before or after dinner. It features a warm ambiance and bartenders who will know your favorite cocktails – or perhaps suggest something you've never tried before. Appointed with booths, beautiful couches and tables, this is not only a great meeting spot, but offers superior views of the back of the ship.
· Stars Nightclub – Found on Deck 6 mid-ship. This one venue, designed to be the ship's place to dance and party, we found a little disappointing, for two reasons: 1) It never attracted even a small crowd (understandably owing, we believe, to the small number of guests necessitated by then-applicable Covid restrictions on guest capacity); and 2) Each night, up until about 11:00 PM, there was a singer accompanied by a keyboardist, but we didn't experience them performing any tunes that were "dance-able," for lack of a better term. After 11:00 PM, you can play the digital jukebox but there were technical problems with it during our stay, and we could never seem to correctly operate it. It may be that Regent may need to re-think this evening dance venue, or perhaps promote it more visibly.
· Pool Bar, Dec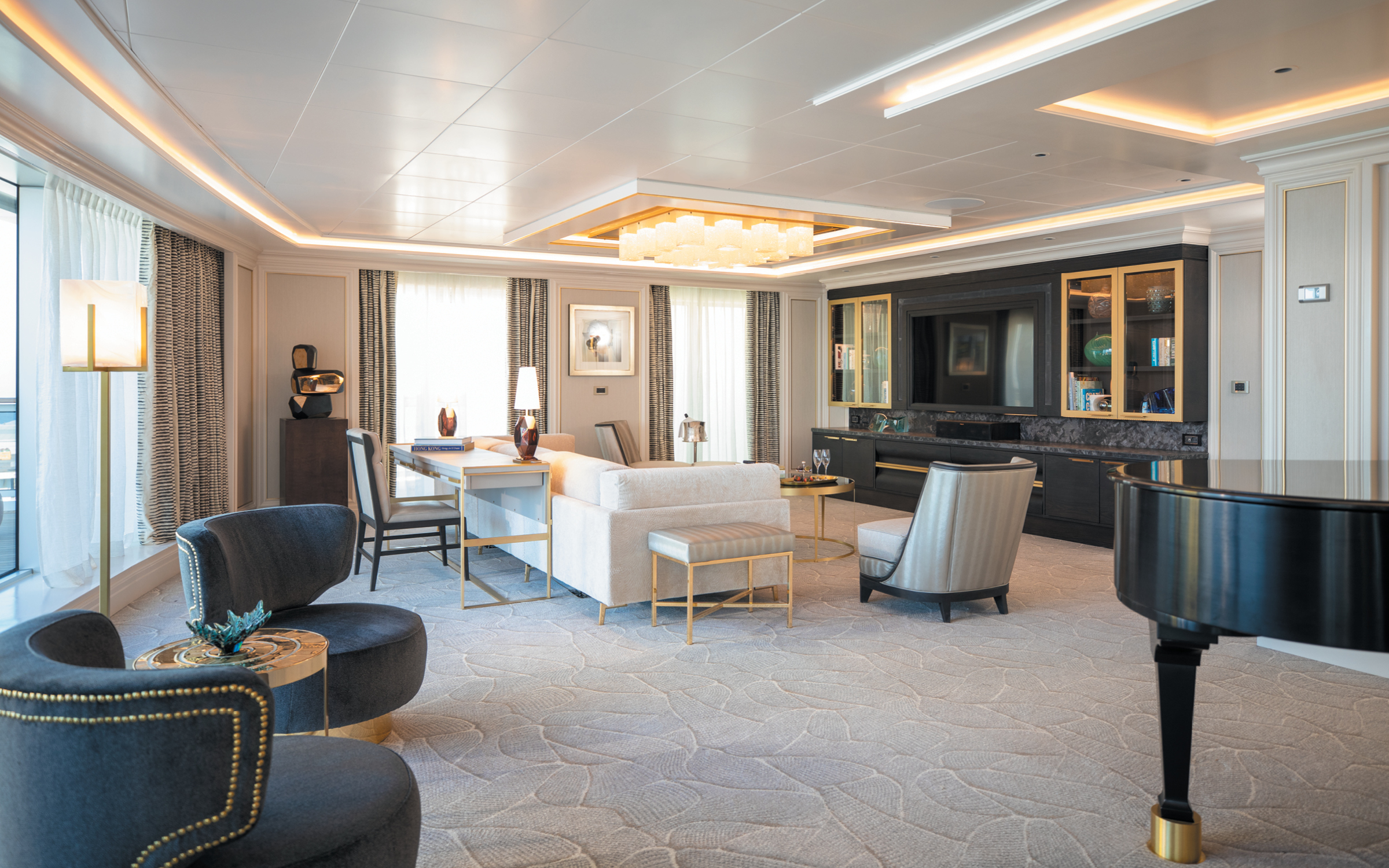 Regent Seven Seas Cruises
Silken Service And Cashmere Care
SERENE SPA – Located on Deck 7 adjacent to the Fitness Center. Here, Debbi immersed herself in this calming environment to receive a facial with natural ingredients that were sourced globally. If it's a massage, a skin treatment or "the right touch," this is where Debbi found her ideal "om-away-from-home." There's fnothing quite like getting a massage right after sightseeing, when you sorely need a nap!
FITNESS CENTER: The Fitness Center, located on Deck 7, is a gym dandy with two separate rooms offering Technogym weight machines, free weights, dumbbells, stretching equipment, treadmills, and spinning bikes. You can also take part in scheduled yoga, Pilates and various fitness classes. A great place to stay in shape (and work off some calories! …Yes, there's a digital scale in there!)
With all this to enjoy and multiple port excursions provided free of charge, being on board for a mere 10-12 days (yes, "mere" is how we now think of a 10-12 day itinerary!) would be too short. When you're in an environment this luxurious and rewarding, having only 10-12 days in total to fully take it all in unavoidably creates a "rushed" feeling – a sense that "We have to do this today; we have to enjoy that tomorrow or we'll miss a shore experience, a show, or a special event."
Advantages Of Longer Cruising
We learned that there is also a very different psychological benefit to being on an extended (3+ week) luxury cruise itinerary: It's almost like comparing Spring Break to an entire summer vacation. You can truly relax and decompress fully. Once you push that unpacked suitcase underneath the bed in your suite, you enter a new home-away-from home, and the effect is sublime. There is so much to enjoy on this ship, and so much provided to you, that indeed, your lasting thought will be "I love this experience and wish it would last forever."
Friendships: On a longer cruise, with more time, you are socially better enabled to become familiar with other passengers, and crew, to cultivate friendships. That was certainly true for us, as we actually met up with passengers that we had met on previous cruises, who then introduced us to their friends, and so on. Seeing people every day for a long time invokes a familiarity, and you have ample time to forge great new bonds. We exchanged email addresses with many passengers – and crew too. And here's something else – we have met couples who had met each other on previous cruises, when they had traveled alone, and now are officially coupled. We also shared our email addresses with some of the crew, as we bonded with so many of the wonderful staff who catered to us.
To sum up the special effects that a very extended luxury cruise itinerary can produce, here's one distinctive example: Of many new friends that we met, one was a retired gentleman who had been a wildly successful businessman and is now a very sophisticated, veteran World cruiser (90-120 days). One afternoon around 4PM, we asked him what he and his wife were planning for dinner that very night. His answer: "To be honest," he said with a big smile, "When I'm on a long cruise, I don't think that far ahead."
Touche! Our point exactly!
For more info on Debbi, please Follow her on Instagram at @DebbiKickham.